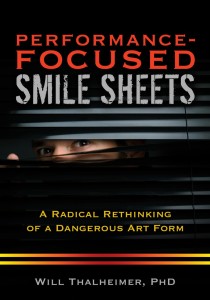 Seriously, a whole book? But why?
It turns out that traditional student reaction questionnaires, which we've all filled out a million times, are (mostly) not worth the paper they're printed on (or the electrons to display them).
Many of the typical questions on these questionnaires do not tell us what we might think they do.
Therefore, using the scores from most smile sheets to make decisions about courses or instructors is not a good idea (even though people do this all the time). That's the "dangerous" part of the subtitle to this book.
Here's a quote from the Introduction:
In brief, here are the problems with traditional smile sheets:

They are not correlated with learning results.
They don't tell us whether our learning interventions are good or bad.
They misinform us about what improvements should be made.
They don't enable meaningful feedback loops.
They don't support smile-sheet decision making.
They don't help stakeholders understand smile-sheet results.
They provide misleading information.
They hurt our organizations by not enabling cycles of continuous improvement.
They create a culture of dishonest deliberation. This book aims to stop the bleeding.
Despite these issues, all is not lost. The book provides excellent advice about how to fix smile sheet problems—because we actually want to know what students-learners-participants have to say. The book includes assistance with the following (and more):
What we should learn from smile sheets
What we should do with what we've learned
Sample questions
How to present results
As I write this, you can only buy the book via Will's Kickstarter campaign (where it's less expensive than it will be after it's generally available). Soon you'll be able to purchase it directly via the Smile Sheets site.
Given the sheer volume of participant reaction data collected in education and training programs, it makes sense to make adjustments so that the data we're collecting and what we do with that data works for us. Currently, much of the time, it's working against us—driving us to make bad decisions. (Again, that's the "dangerous" part.)
The book is easy and fun to read (quite the accomplishment, as it's about measurement)—and it will inoculate readers against oh-so-commonly-made mistakes in data gathering and use.
In other words, there's no longer any excuse for asking smile sheet questions that produce bad data or for using that same bad data to make questionable decisions.
Resources
Sample Chapter | http://willthalheimer.typepad.com/files/sample-chapter-and-more.pdf
KickStarter Campaign | Will's SmileBook Project
Book Site | Smilesheets.com
Video | Research on Smile Sheets—What it Means for Your Organization