One great thing about being an instructional designer is that you are constantly learning. Most new assignments involve new content.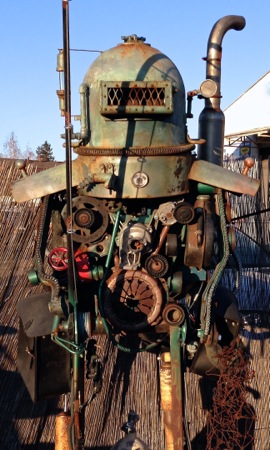 Ready to Design Anything
So learning is great, but it can be terrifying to design for a learning program when you start out not knowing a thing about the content.
Here are some suggestions:
1. Find Out What You Don't Know. Many years ago I designed a course for software engineers on using software metrics. I'm not a programmer. When I started, I had no idea what software metrics could possibly be. To figure it out, at least a little, I attended lectures by my client (who was a subject-matter expert [SME]) and I read his book.
It's not that I could do software metrics after the lectures or reading, but I had an idea then about the subject—the depth and breadth of it, at least for this course.
I had a mental map of the universe of things that I didn't know about the topic. That is much more helpful than it might sound. If you know what you don't know, that provides a path to follow. You can likely start to build a structure of useful content and questions to discuss with your SMEs.
2. Read Materials for Novices. For more common subjects, read introductory overviews. Sources include Google searches, a look at what's on Amazon.com, and materials from the organization that's asking for training. For example, especially for proprietary topics, the organization may have introductory slide decks or sales copy.
As always, consider the source. Look for multiple points of view, and as you dig deeper into a topic, search for solid evidence that supports what you're reading.
3. Find the Right Subject-Matter Expert(s). You want experts who:
Know their stuff
Have direct experience with the subject
Can explain what they know
Want to share what they know (sadly, this is not always the case)
4. Make Appointments with Your SMEs. Great SMEs often do not have extra time. Make appointments to ensure you have access. Prepare lists of topics and questions ahead. Start by establishing rapport and talking about how you'll work together.
The less you know (or will reasonably be able to learn) about the content, the more help you'll need. Still, don't take the approach of writing down everything the SME tells you as if that will make a great course.
As the designer, identify the type of content you're working with and what you want the learners to be able to do at the end of the program. Create a learner-centered agenda including the essential ingredients for instruction (objectives, practice, and feedback).
5. Become Expert Enough Yourself. If possible, learn to do whatever it is your learners must learn to do. The more hands on you can be while learning, the better.
6. Capture Your SME. The more specialized the content, the more likely that you'll want your SME to deliver the technical parts of the program (for example, lectures and demonstrations).
If the SME is able to give a good presentation, invite him or her to give it live or make a recording (depending on implementation factors). If your SME is unable or unwilling to deliver the content, then you'll need more complete materials (for example, slides, workbook, job aids, video, performance support), and someone may have to learn enough to explain key points and give demonstrations.
It's often a good idea to have a trainer manage the nontechnical aspects of the program, for example, introductions, setting up learning activities, managing the agenda, and transitions. This will help to keep the agenda on track and make the assignment less daunting for the SME (and therefore, he or she is more likely to agree to help with delivery).
Depending on time, resources, and context, you can design quickly and deliver right away with the help of a great SME or you can take more time and mediate the SME's contribution or bring someone else up to speed to help out.
Even if you don't fully understand what the instructor will talk about or demonstrate, you can still design an instructionally-sound program. Figure out the scope (learn what you don't know), immerse yourself in a good overview, work with SMEs, use what we know about content types to design good instruction, and always include the essential ingredients.
Resources
Post | Here's Why I Love Content Types: And You Should, Too