Sometimes there's a great book, article, or website that just begs to be read. Maybe your learners, your team, or your professional organization can benefit from reading it together.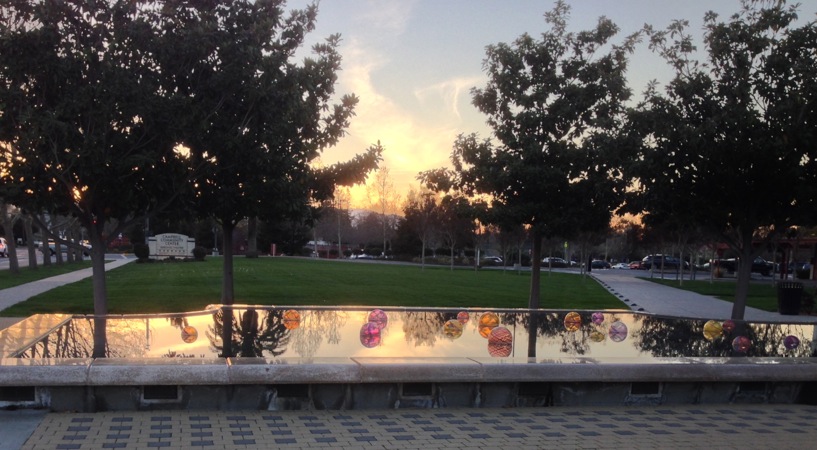 Reflecting Pool in Campbell
Here are three ways to get more from what you and your team or organization are reading.
Training Program. Let's say you're giving everyone a book (or other reading) to take back to the office.
Quite possibly, that book will go on a shelf… and the chances someone will read it: not good.
So, how about a class-based review? This can work with in-person or at-a-distance groups. Why do this? To generate more interest.
Here's what you want: Reading. Application of new, good ideas. Maybe a little fun.
Hand out the book (or ship it ahead of time).
Establish groups.
Assign a few pages with useful content to each group.
Have the groups review their assigned content.
Give them a few minutes to present the content to the rest of the class: in the classroom, electronically, synchronously, or asynchronously.
Assign points for "most interest generated," "best presentation," or "best ideas" if adding a little competition will help.
Make connections between the content and the job. Summarize and bring out main points.
Work Teams. Let's say that it makes sense for everyone on a particular team to read something together.
Here's what you want: Read. Discuss. Look for application opportunities. 
Make sure everyone has the book (or other reading).
Develop a schedule: maybe a chapter or section every week or two.
Consider developing unique questions for each chapter, or create a standard list of questions, for example: What about this chapter seems most relevant for us? Have you seen an example of someone implementing something like this? If we used it here, how do you imagine it would work?
Hold your discussions. Appoint a facilitator for the whole book or trade off.
Have someone take notes on the main points generated by the team.
Share the notes after each session.
Look for opportunities to improve practices or processes. Make connections between the content and the job.
Local or Virtual Organizations. Let's say you belong to a professional organization and some of the members would like to read relevant books and discuss them.
Here's what can happen: Learning. Usefulness. Networking. 
Consider a poll to select a book or other readings (from maybe three choices). Keep a list of suggestions for future polls.
Decide how much of the book (maybe the whole thing) when you meet.
Set a recurring time or use another poll to select a date and time for the discussion.
Send out meeting time, date, and location. Include any special instructions if the meeting will be virtual.
Introduce everyone at the beginning of the discussion. Ask for initial impressions, then dive into your questions.
Have folks share their ideas for implementing what they've read or heard.
Take minutes or record the conversation and share with the group.
A professional "book club" can be a vehicle for increasing our engagement with what we're reading, building common understanding, and applying what we've learned. If you are an instructional designer, trainer, manager, or member of a processional organization, a professional book club can be a great way to encourage learning.