The Surprisingly Simple Truth Behind Extraordinary Results
By Gary Keller with Jay Papasan
Want to be great at something? Or maybe just pretty darn good? Let's consider that the "something" could be your profession, your role in your family, or even your whole life.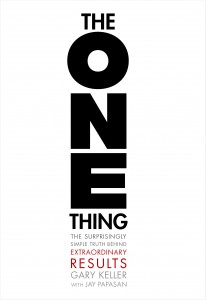 "Anyone who dreams of an uncommon life eventually discovers there is no choice but to seek an uncommon approach to living it."
I loved reading this book. The central idea is that keeping focus on the right thing will allow for extraordinary results. Here's the main Focusing Question:
"What's the ONE Thing I can do such that by doing it everything else will be easier or unnecessary?"
Here are some of the main points:
If we choose the right ONE Thing, it's inspiring.
The ONE Thing becomes a big lever that makes other things possible.
We can only really do one thing at a time. Multitasking is a lie. (They highlight six lies that have, at one time or another, become myths about how to be productive.)
There are two levels of the ONE Thing: a big ONE Thing that we're aiming for, and this moment's ONE Thing, that we're doing right now.
Yes, you can have ONE Thing for each of your life's focus areas.
Block off at least 4 hours every weekday to work on your ONE Thing.
Figure out the ONE Thing for your other focus areas, and take care of those in the rest of your time.
Expect and accept a little chaos in the rest of your life.
Take care of your body and psyche so that you have the energy and peace to work on your ONE Thing. Eat well. Sleep enough. Make time for quiet. Schedule time off.
Once upon a time, I was working more than full time in a high-tech, Fortune 500 company, raising my son, finishing my doctorate, and attempting to have a life. Ha! I hesitate to recommend this kind of complexity to anybody, and when I look back, a) I feel tired and b) I wonder how I managed.
Of course there were days when I felt like I couldn't do anything well. That was stressful. But… it somehow turned out. Here's why. I kept in mind that "the main thing is to keep the main thing the main thing, and the main thing is to finish my degree."
During the last push to finish my dissertation, here's how I worded my ONE Thing:
Work on the dissertation (the ONE Thing)
If I can't do that right now, work on something that will help reduce my stress level (everything else)
I still had to work. Shawn still had to get to play practice. Dinner had to happen. But I blocked out time to work on my dissertation. It meant getting up at 5:30 (not my favorite hour). It meant leaving work at 4:00. It meant working hours more on the dissertation. Every day. It meant getting help with other areas of life so that I could protect that time.
It also meant finishing. It meant graduating. It meant celebrating. Many years later, that still makes me smile.
If you want less craziness, less stress, and more big things to happen in your life, the main thing is to figure out your main thing, and then to focus on making that ONE Thing happen. At the same time, it's not a sprint. It's a marathon, so be sure to take care of yourself, your family, and the rest of your life along the way. See the resources below for more.
Resources
Book | Keller & Papasan (2012). The ONE Thing: The Surprisingly Simple Truth Behind Extraordinary Results
Site | The ONE Thing Resources and References

Book | Covey (Anniversary Edition, 2013). The 7 Habits of Highly Effective People: Powerful Lessons in Personal Change
Video | Keller (2011). The ONE Thing Part 1, Mega Agent Camp

Video | Keller & Papasan (2011). The ONE Thing Part 2, Mega Agent Camp

Video | Keller (2011). The ONE Thing Part 3, Mega Agent Camp