Okay, maybe not always. Still, I gave a talk without slides the other day, and I loved the freedom of it. People were engaged. They gave great feedback. I had a great time. Plus, the sponsor was happy.
As I think back to other talks I've given without using slides, I enjoyed them more, too.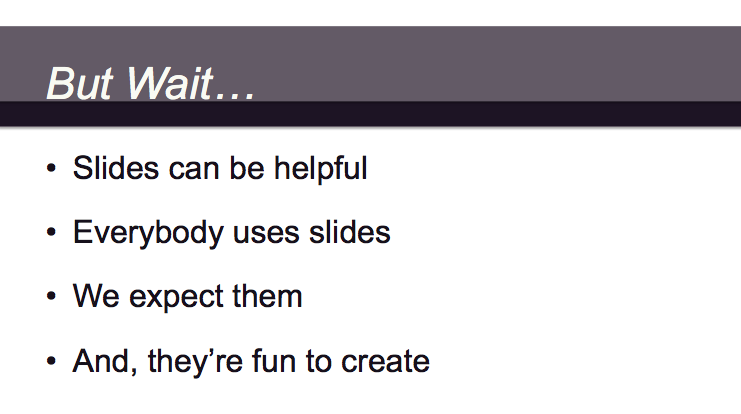 ~It's hard not to keep looking at a slide.
Here are three reasons why slides can mess up your talk:
Slides capture attention. That big, bright screen at the front of the room is hard to ignore. Slides can take attention away from everything else: you, other participants, even the points you're trying to make.
People can't read and listen at the same time. They start reading. You can't put it all on the slides. If you do, then they don't need you. If you don't, then they may not hear you.
Slides can be a barrier to engagement. Because your audience is looking at the screen, it's harder to establish rapport or good communication.
You can make this better. Reveal a point at a time, put less text on your slides, use better images (or mostly images), turn the screen dark when you don't want people to read stuff…
What I did instead. I used a handout that included the structure of my talk, some specific content, and plenty of room to write notes. No slides.
Here are seven reasons to ditch your slides:
Increase engagement. Without splitting attention with what's on the screen, you'll have better rapport with your audience. They can invest more actively with the content, you, and other participants.
Increase energy and reduce fatigue. Frequently focusing on slides means that you have to recapture attention over and over again. That's draining. Eliminate this pattern to make your talk easier for you and for your participants.
Increase flexibility. You can skip forward or go back without awkwardly navigating through slides that are stuck in a fixed order.
Have more fun. There's more of a "we're all in this together" feeling without the inevitable pull to keep looking at the screen.
Reduce stress for you and your sponsor. Nobody has to make sure the technology works.
Save time and be better prepared. You can spend many hours making just the right slides. Instead, use that time to create a better talk.
Juggle less. You don't have to remember what's on the slides, what's in the handout, what's in the Leader's Guide, or what you wanted to do next. Your copy of the handout can include all the notes you need.
I'm sure there are times when you'll really want slides. Me, too. That's okay. But over the years, I've noticed that talking without them can create a better talk for my audience, my sponsor, and for me.
What do you think? Slides? No slides? Always, sometimes, never? 
Resources
Post | Hate Presenting? It's Not You, It's Your Slides

Post | The PowerPoint Slide I Hate the Most

Post | Eight Great Ways to Open a Speech (Part One)

Post | No, You Can't Have My Slides
Slides | My PowerPoint slides for the RSA Conference 2011 (pdf)

Slides | Really BAD PowerPoint (and how to avoid it) (pdf)