Why RSS | Feedly to the Rescue | Feedly's Keyboard Shortcuts
At Google's Take Your Parents to Work Day in April, one dad asked Larry & Sergey why they were discontinuing Google Reader. The reaction from the crowd was loud & sustained—who knew that Google employees and their parents loved Google Reader so much? But despite much gnashing of teeth by GR fans, the decision stands.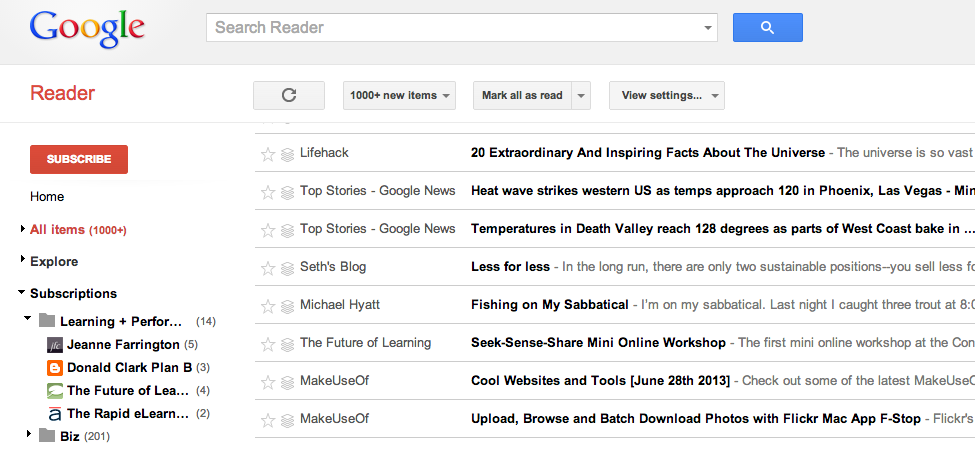 Why RSS?
RSS Readers put your favorite blogs all in one place, so they're much easier to follow.
You don't have to remember:

Which ones you want to read
How to find them
When the author posts

Posts from blogs you like automatically show up in your reader.
You can quickly scan the news, content from professional sites relevant to your work, and content you want to read for any other reason.
You can read more and save time doing it.
It's easy to add a blog you want to follow to your reader.
Feedly to the Rescue
After looking at several alternatives, I transferred to feedly. It's easy to use, their folks are helpful, and I love the ability to customize. You can view your feeds in these layouts:
Title. Article titles + part of the first line of the post
Magazine. Image + a few horizontal lines
Cards. Image + a few vertical lines
Full Article. Image + as much of the post as the site sends out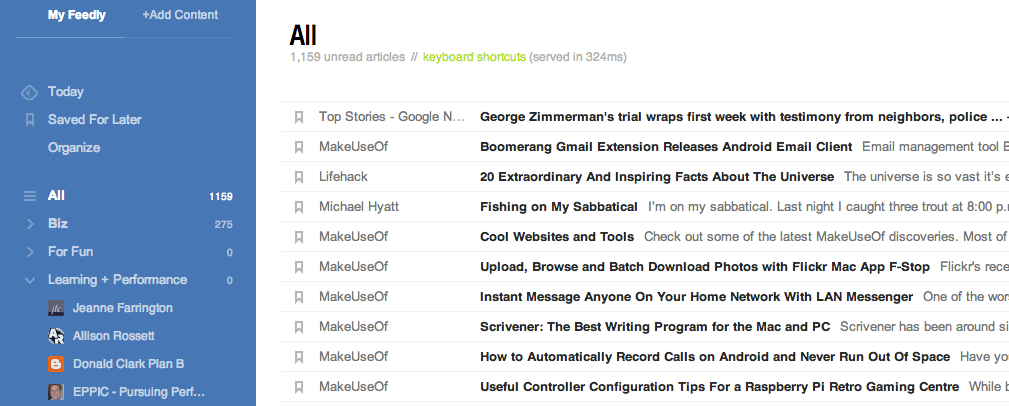 Feedly's Title View in "Pianist" Theme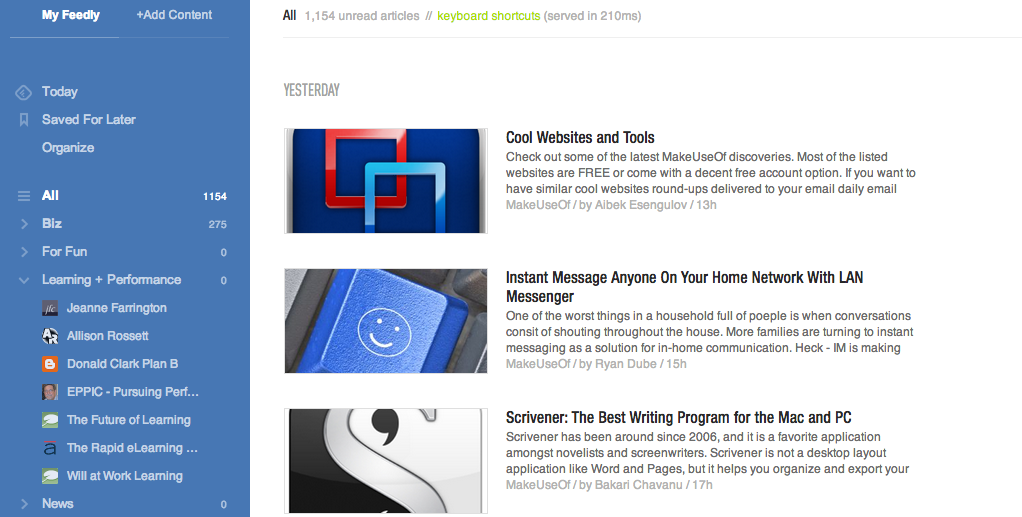 Feedly's "Magazine View"
Adding new feeds is easy as pie:
Click "+Add Content"
Type in a URL
Click "+add to my feedly"
Pick a category for your new feed.
That's it! Now you'll automatically get all the posts from that site, right in your feedly reader, categorized as you wish. You can also search for topics or titles, and feedly will suggest related sites.
Categories make it easy to read posts in groups according to topic (for example, learning, productivity, creativity, fun).
Feedly's Keyboard Shortcuts
These shortcuts are one of the best things about feedly. Just press "?" on your keyboard (shift + ?), and up comes a helpful list.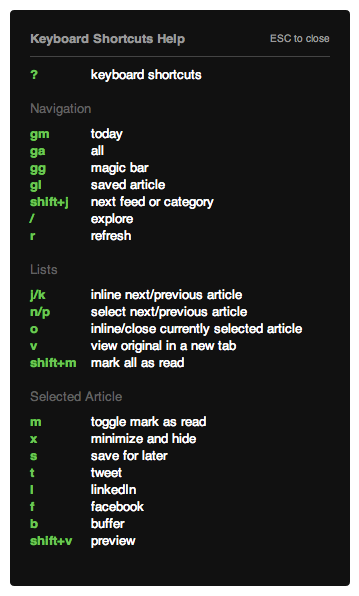 You can skip to the next post, open a post in a new tab, share on Facebook or Twitter right from feedly, and do many more things. For long posts, scroll down by hitting the space bar.
So, while we may mourn Google Reader, feedly is doing everything they can to fill the gap—and more.
Oh, and did I mention that it's free?
Resources
Article: What is RSS?
Article: 12 Google Reader Alternatives
Article: How to Cope with the Death of Google Reader
Website: feedly

Post: Tips for Google Reader users migrating to feedly
Video: 9 Ways to Personalize Your Feedly
Post: From Google Reader to the Feedly Cloud: Summary of the last 100 days