From Columbus, Georgia. I just changed the time zone on my computer clock: 6:09 a.m. seems like such a better time to be up & writing than 3:09, which is the time it is at home.
For some reason I was awake most of the night. Jet lag, probably. So I made sure, when I finally gave up on sleeping and got up at 5:00, to spend a little time in mindfulness meditation to help me through the day. My second Sleepless-in-Columbus strategy is to have a good breakfast.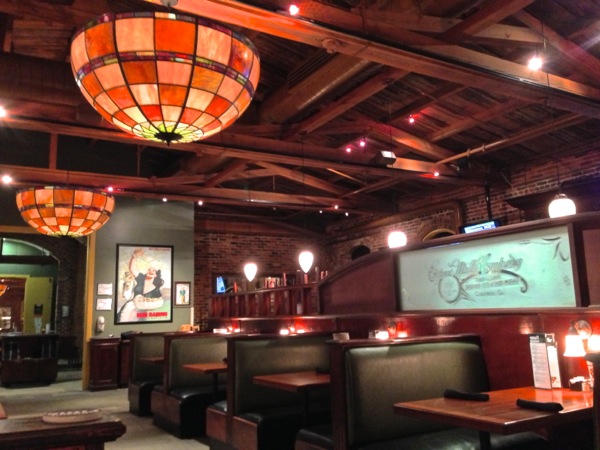 Houlihan's Restaurant: photo © Jeanne Farrington
The other day, one of my favorite clients was telling me that he has a hard time focusing on his work because there are so many things vying for his attention.
There are a number of remedies for this, not the least of which would be setting goals, making a list of tasks required to accomplish those goals, scheduling the tasks on a calendar, turning off email notifications (processing email in batches at set times during the day), and using The Pomodoro Technique.
Instead of those ideas, which he's probably heard about already, I suggested that he try mindfulness meditation. He did, and he reports that it was a factor in feeling more organized and in recovering from feeling overwhelmed (he also started reading Getting Things Done).
What is it? Well, mostly it involves sitting quietly and focusing on your breath. Easier said than done, but not difficult, either.
Benefits
Don't expect miracles after just 3 minutes, but in studies ranging from 5 to 30 minutes, from daily practice to a few times a week, researchers have found benefits that include enhanced focus, greater productivity, improved test scores, a sense of emotional well-being, health benefits, and (my favorite) improved sleep.
Getting Started
For all those benefits, mindfulness meditation is free, takes just a few minutes, and is easy to do. Here are the basics:
Pick a quiet location where you are unlikely to be interrupted.
Sit comfortably (in a chair is okay).
If you wish, set a timer, maybe 3 minutes to start (gradually increase the time over a number of days).
Close your eyes.
Focus your attention on your breath.
When you notice that you are thinking, that's okay. Just return your attention to your breath.
That's it!
With daily (or frequent) repetition over time, you should find enhanced benefits. If you stop practicing, the benefits will fade.
Some variations:
Focus on your senses, one at a time: what do you see, hear, feel, smell and taste?
Listen to nature sounds or calm music. 
Repeat a short devotional phrase to turn your meditation into a prayer.
If you are traveling (and a passenger), you can close your eyes and focus on your breath. Because there are other people around, this is one of those times when music or recorded nature sounds can help.
Count your heartbeats as you breathe. Find a rhythm that works for you.
If all of this seems too much, try taking three slow breaths while you focus on each one. See if you don't feel better already.
I'm not always consistent, but when I take a little time to practice mindfulness, it helps me to navigate through my busy days. If I notice I'm losing my focus, returning to this practice helps me to regain focus and be more productive.
Resources
Article: The Power of Concentration
Article: Mindfulness Meditation Benefits: 20 Reasons Why It's Good for Your Mental and Physical Health
Article: A Simple Guide to Mindfulness Meditation
Article: How Meditation Might Boost Your Test Scores
Article: Medical Establishment Ponders Meditation for Its Health Benefits
Article: From Ouch to Om, Meditation Reduces Pain
Book: Getting Things Done

Post: To Be More Productive: Get Started | Focus | Take Breaks
Post: The Practice of Stillness
Question
What works for you when your day could use more calm & less stress?