By Harold D. Stolovitch & Erica J. Keeps, with contributions from Marc J. Rosenberg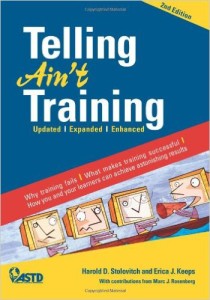 Want to help someone learn? A most engaging and excellent way to find out how is to read this book.
If you are new to instructional design, teaching, or training, this is a great book. If you've been in the field for a long time, you'll find well-articulated points about what we do and how we do it: points you might like to make yourself.
Written in conversational style, the book is engaging (it's like Harold & Erica are talking straight to you), easy to understand, and compelling to read.
At the same time, you'll find decades of experience and research masterfully synthesized into helpful, practical advice.
A few topics from the book:
Learning and learning transfer: not so easy, plus—how to make both of these things more likely to happen
A mantra we should all remember: "learner centered… performance-based"
Adult learning principles & what to do about them
A five-step model that works for designing lessons (adaptable, useful, exactly right)
Training activities you can adapt for many contexts
The key importance of efficient and effective training, the difference between them, and how to attend to each
The benefits, promise, and challenges of technology & training
Design: the essential process to make our training work (or not)
As of this writing, I'm teaching an instructional design graduate seminar at California State University, Monterey Bay. It's the first time I've used Telling Ain't Training as one of our textbooks. I'm especially enjoying reading this book with my students (who report that they find it helpful, too).
Resource